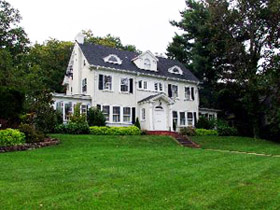 American Plumbing Incorporated water line repairs, services, installations and replacements without total yard excavation throughout Virginia. We can replace your main water line, and preserve your lawn and landscaping during most water supply line replacements and repairs.
Serving all of Northern Virginia, including Fairfax County, Prince William County, Arlington County, Falls Church, Alexandria, Loudoun County, Stafford County, Fredericksburg, Fauquier County, Rhappahanock County, and the District of Columbia. As licensed and insured plumbing contractors, we offer 24 Hour, 7 Days a Week Service and provide a 10-Year Guarantee on Parts and Labor.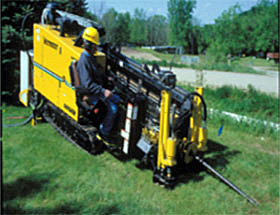 At American Plumbing, waterline repair and replacement is our specialty. We devote all our plumbing and construction skills to be the best underground water and sewer contractor in the area. We have worked diligently to maintain the skills, knowledge and equipment to keep up with the demands of today's customers.
Our directional drilling knowledge and experience offers our customers the most practical and efficient way to replace broken water pipe. We've been doing directional drilling to install water services since 1996 and have successfully installed over 20,000 water services for residential and commercial properties.
More importantly, trenchless waterline installation and repair technology maintains the appearance of your property. Our experience has allowed us to see every type of property in the region, and we use the most practical and cost efficient way to complete waterline installation and repair jobs for our clients to get them back in service in a timely manner.
Your main water line runs from the street to your home. American Plumbing uses special equipment and up to date technology to replace your deteriorating and unreliable polybutylene water supply line with long lasting, reliable and durable copper tubing. This drastically reduces the chance of breaks, leaks and interruptions of water supply to your home and damage to your landscaping.
You can depend on us for timely, efficient and professional friendly service
to restore your water service to your home.
American Plumbing is a proud member of the Better Business Bureau, and an Authorized Dominion Products and Services Contractor, providing customers with excellent service throughout Virginia.


We are rated A-Plus on Angie's List and A-Plus by Consumer's Checkbook.


We highly recommend Dominion Products and Services home warranty programs for your water line and other home systems for just pennies compared to your possible out of pocket expenses. If you are currently enrolled in the Dominion Products and Services Water Line Replacement program, you may request American Plumbing as your plumbing contractor and be assured of quality work.
Our Work
We specialize in water service repairs and replacements from the water mains to your home without total yard excavation. We install the new water main service through the existing water service. By using this method, the new pipe or water line is further protected by the existing service. If we are unable to use this technique, we can mole underground, resulting minimal damage to your yard.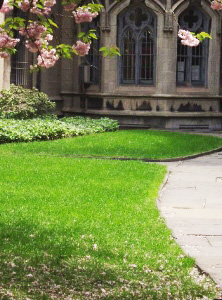 We are able to locate your water lines, make repairs to water supply lines and provide total water liner replacement in most cases without damage to your lawn with the tools state of the art equipment and technology that we use. American Plumbing has thousands of very satisfied customers.
Do you have a leak in your water supply line to your home?

Have you noticed an unusual increase in your water utility bill?

Is there an area in your yard that is constantly moist or soaked?

Do you think you hear water running constantly?

Do you know the water line to your home is your responsibility?
If you have already checked for leaking faucets, toilets and visible pipes or water lines and you still think something is wrong, you can verify if you have a leak in your water line by calling your local water authority. Your local water authority can determine if the leaking water is treated or uncontaminated water (which would determine that there is a leak in the water service), or if the water is untreated (meaning it is ground water). This is usually a free service provided by your local water authority in your town or county.
Once you have determined you need repairs to your underground water supply to your home, then call American Plumbing Inc. We are THE Underground Water Supply Line Repair and Replacement Specialists of Northern Virginia including Fairfax County, Loudon County and surrounding communities.
Why Do Water Lines Break?
Water supply lines break or develop leaks for many different reasons such as conditions in the ground surrounding the pipe like tree roots, rock, ledge and the ground settling with weather change through the seasons. Breaks and leaks can also be caused by defective material such as polybutylene tubing, age, normal wear and tear or accidental damage. Your water line could be damaged if there was recent digging or landscaping without first locating and marking the water supply line to your home.
Why Choose American Plumbing For Your Water Line Replacement And Repairs?
You should ALWAYS choose your contractor wisely making sure they are a reputable, reliable, professional, licensed and insured contractor. Your plumbing contractor should have verifiable references reflecting high standards and pride in their work.
You can check with the Better Business Bureau to see if a contractor has any complaints registered with that organization, thereby increasing your protection from getting unsatisfactory performance and other possible problems. You can contact the BBB at 202-393-8000 or online at www.bbb.org.
Make sure the plumbing company or contractor that you hire is in the PLUMBING business. Many contractors do plumbing as part of their business or are jumping into plumbing because their primary business (housing, irrigation, etc.,) is slow. These companies will not provide you with the expertise and equipment needed to perform replacement or repairs of your water supply line without delays, complications or possibly damage to your lawn.
American Plumbing Inc. is a member of the Better Business Bureau in good standing. We are fully licensed and insured and our impeccable reputation for excellent service for water line replacement and repairs to your home is reflected by our many references of satisfied customers. A few of our many testimonials are below and we will be happy to furnish local references in your area upon request if possible.
American Plumbing licensed plumbers are Specialists in Water Line Replacement for residential homes and that is all we do! We provide you with excellent, reliable service and written guarantee for all our work!
If the services needed are covered by your home owner's insurance policy, we are willing to work with your insurance company on any job.
New Home Buyers
When buying a home you should make an inquiry to the seller or home inspector whether there was previously polybutylene pipe or tubing in the home that was replaced. Or, you may notice that polybutylene pipe was replaced inside the home yourself.
This is evident when you notice a coupling or connection on an exterior wall that is copper pipe connected to the poly tubing. If it is the case that the polybutylene was replaced inside the home it may not have been replaced outside and this type of supply line tubing is defective.
You can save yourself the cost of the replacement of your water supply line in your new home prior to your purchase by calling Amercan Plumbing for a free inspection of the water service line from the street into your new home.
We are Happy to Help and Service Your Water Line Replacement Needs!
For any Questions, Comments or Free Estimates, Call:
American Plumbing
Water Line Replacement Specialists

Toll Free 1-800-998-4617
Testimonials
We highly recommend Brian and Dan of American Plumbing! They just finished our water pipe line replacement and it looks like they were never even here! They responded within 5 minutes of our call to Dominion and scheduled us right away. The whole job only took them about 4 1/2 hours to replace our entire line. Thanks so much!!
--Jill and Stacy
I would highly recommend American Plumbing. The response time was amazing. Brian and Dan were great to work with. They arrived on time, went straight to work and were finished in a very short time. They left my property as if they had never been there. I am grateful that Dominion Power sent American Plumbing to repair my water main leak.
-- Ron Penn
I'm still absorbing the total fascination of watching Brian and Dan of American Plumbing in action! Having witnessed, not long ago, my neighbor's experience with a waterline replacement, I was prepared for massive yard invasion, tree loss and a timely project. None of the above took place. I highly recommend these professional gentlemen and their skilled craftsmanship in their expertise. Many thanks!!!
-- Dianna Johnson